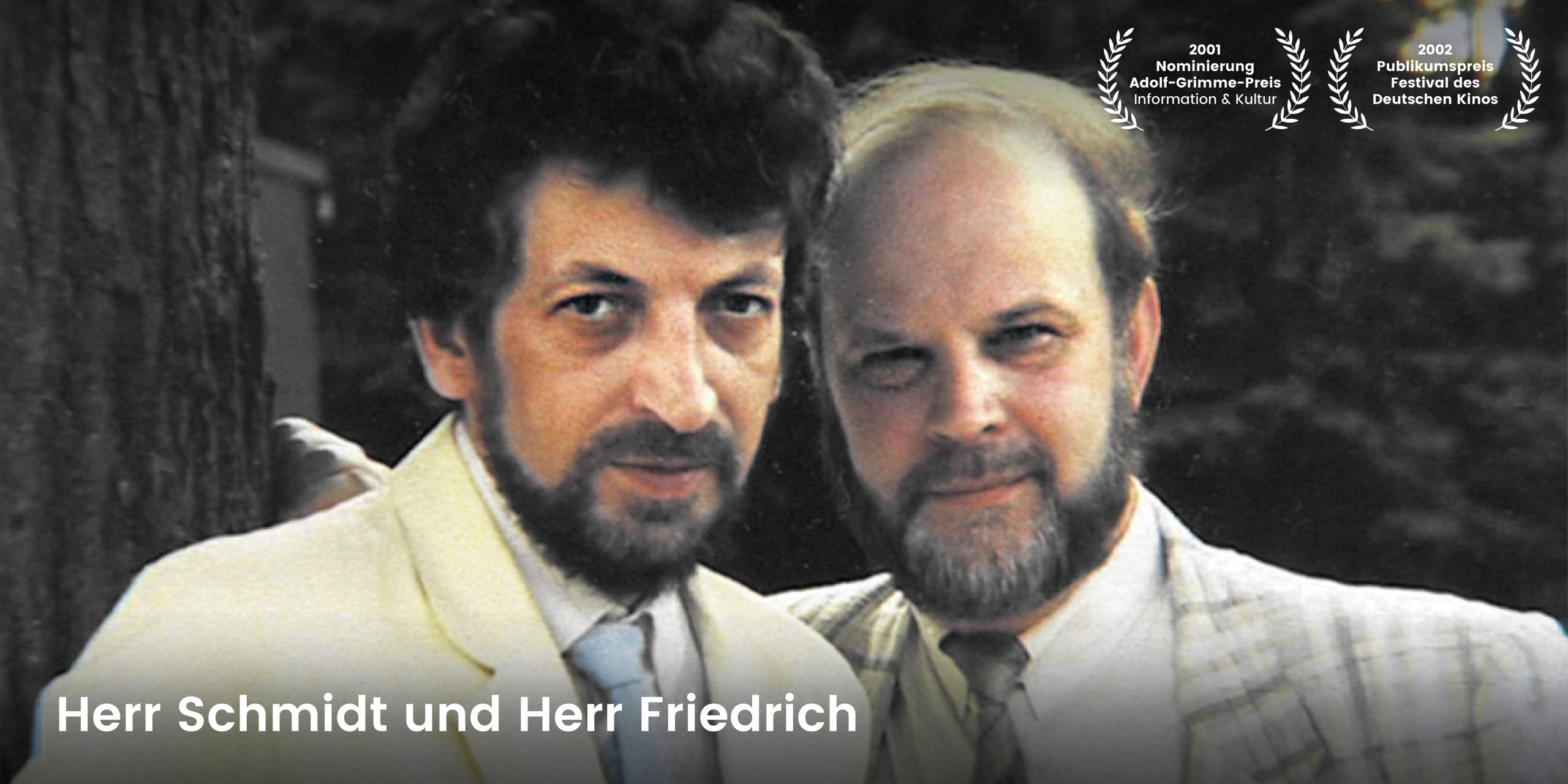 Herr Schmidt und Herr Friedrich
DOCU | FILM | CINEMA
Germany 2001
69 Min
Original with english Subtitles
Original with russian Subtitles
Directors: Ulrike Franke, Michael Loeken
A portrait of a gay couple and at the same time a relationship comedy and a journey into the German past. The love between Kurt Schmidt and Wilfried Friedrich managed to surmount both the Wall in Germany and the wall in private life. With all openness, they talk about their past, their future plans and the way they cope with concerns about the present. Herr Schmidt and Herr Friedrich let us participate in their lives. They grip us, surprise us, move us and make us laugh. But be careful! He who finds these two petit bourgeois men amusing, will discover the same – in himself.
---
CLIP
---
AWARDS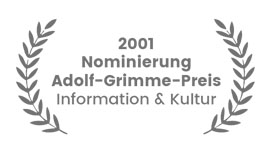 ---
FESTIVALS
2001 — Filmschau Niedersachsen / Inventur 8 / Hannover, Germany
2001 — DOK.fest /
16. Internationales Dokumentarfilmfestival München, Germany
2001 — 13. Annual New York Lesbian & Gay Film Festival / New York, USA
2001 — 16. Umeå International Film Festival / Umeå, Sweden
2001 — 8. Dokfilmwerkstatt Drehort OstWestDeutschland / Insel Poel, Germany
2001 — 14. Milwaukee LGBT Film/Video Festival / Milwaukee, USA
2001 — 46. Cork International Film Festival / Cork, Ireland
2001 — Lesbisch Schwule Filmtage, Hamburg, Germany
2001 — DOK Leipzig / 44. Internationales Leipziger Festival für Dokumentar- und Animationsfilm, Germany
2001 — Kasseler Dokfest / 18. Kasseler Dokumentarfilm- und Videofest, Germany
2002 — 28. Internationales Filmwochenende Würzburg, Germany
2002 — 23. Filmfestival Max Ophüls Preis / Saarbrücken, Germany
2002 — 4. Ljubljana Documentary Film Festival / Ljubljana, Slovenia
2002 One World Film Festival / Prag, Czech Republic
2002 — 2. International Dokumentary Film Festival Flahertiana / Perm, Russia
2002 — FILMZ – Festival des deutschen Kinos / Mainz Germany (Award)
2004 — 11. Febiofest – Prague International Film Festival / Prag, Czech Republic
2004 — Festival del Mar – Ibiza International Gay and Lesbian Film Festival / Ibiza, Spain
2007 — UNERHÖRT! – 1. Internationales Festival für Musikfilme / Hamburg, Germany
---
REVIEWS
"Ulrike Franke and Michael Loeken's award-worthy documentary about the mundane end of a great love combines comedy with sadness."
Andrea Kaiser // Die Zeit // 22.11.01
"Maybe he will be a little happy one day when he can re-watch how Ulrike Franke and Michael Loeken portrayed their life together: the bereaved Mr. Schmidt could not wish for a better souvenir. Such a wonderful film that recognises the unique in the trivial, the deeply felt in the schmaltzy, the sadness in the comical and the great love in the awkwardness: for everyone who is tired of the "shrill" gay programmes on television, this wonderful film is a gift."
Sybille Simon-Zülch // epd Medien // 1.12.01
---
STILLS
---
SYNOPSIS
Berlin 1977 – When Wilfried Friedrich and Kurt Schmidt meet for the first time, they fall head over heels in love. Both of them are convinced that they have met the man they want to spend the rest of their lives with. Their story began before the fall of the Wall: one was a salesman in the west, the other was a waiter at a train station restaurant in East Berlin.
These are the days of the Cold War. Germany is divided into East and West and their love is caught in between. Wilfried is kept under permanent surveillance by the STASI, the East German Secret Service. He is classified as a deviant, a homosexual in contact with the enemy and thus regarded as a potential danger to the German Democratic Republic. Being together seems impossible, there is no hope. Wilfried and Kurt start fighting for their love, trying to tear down the walls that stand between them. The days of employment are long gone and the two men, both in their mid-fifties, are confronted daily with the question of the meaning of life. They occupy themselves with various hobbies, like mini-golf, gardening, grilling, and above all, various well-maintained collections. For example, records, video cassettes, decorative plates, model trains, letters and secret police files.
---
CREDITS
Herr Schmidt und Herr Friedrich
Germany 2001
69 Min
Original mit englischen Untertiteln
Original with russian Subtitles
Directors: Ulrike Franke, Michael Loeken
Director of Photography: Jörg Adams
Location Sound: Csaba Kulcsar, Nikolaus Kindlovits, Olav Gross
Editor: Timothy McLeish
Production: Viola von Liebieg
Commissioning Editor: Dagmar Filoda
Co-Production: NDR
Supported by: Filmförderung des NDR in Niedersachsen, filmbüro NW
---