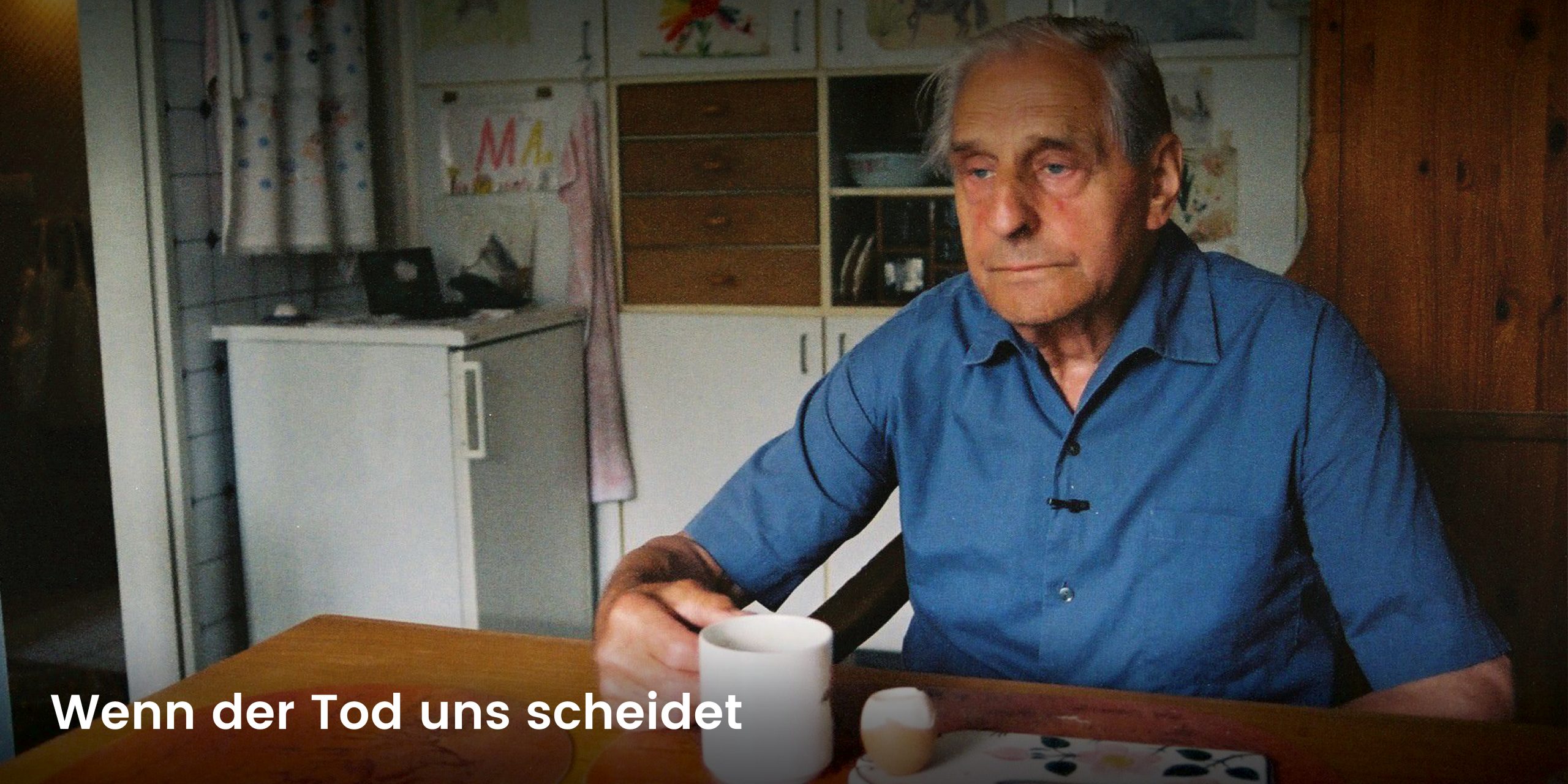 Wenn der Tod uns scheidet
(Til Death Do Us Part)
Leben nach dem Abschied

DOCU | FILM
Germany 2005
90 Min (D)
Directors:  Ulrike Franke, Michael Loeken
Losing a spouse is a life-shattering experience. Widowed women and men often remain alone for decades. How do they cope with the blow of fate that has been dealt to them? How do their lives continue?
This film focuses on women and men whose partners have died following a long partnership or marriage. The rational mind is almost unable to comprehend the loss; everyone is plunged into an intense crisis. But everyone faces that crisis, and that upheaval, in a different way, and finds their own personal way to master their second life.
---
CLIP
---
STILLS
---
SYNOPSIS
They have lived their lives together, they have raised children, they have worked, they have fought, and they have loved each other – for decades. But in the end, one of them is left alone. And in old age, the one still living is suddenly forced to go on living alone. To start anew with a life that was always aligned with the other person.
Take Lisa Steffens, 74, a widow for ten years. She had been married for 35 years. "It's worst in the morning. No one next to me, no one looking at me, no hand. That's the way it is. Yes, even after 10 years." Helping to counteract all of that is "Rotes Lädchen" (Little Red Shop), a clothes shop for the needy where she has been volunteering on Fridays since her husband died.
Paul Grauberg is 85 years old and has been a widower for a year. He was married for 57 years. He cannot forgive his wife for not letting him go first. But at least she "raised him to be a widower". So he runs the household as best he can at the age of 85. But he misses his wife deeply during his day-to-day activities. Whenever he watches TV or sits in her spot in the kitchen, he always thinks she is about to walk through the door. He sleeps in the big double bed, next to the feather duvet he no longer uses but which he plumps up every day. In every area of his life, he feels like a half of a person. And what use is a half of a person, he thinks to himself during the first period of mourning. But then he plucks up the courage and attends a cooking class….
How does a second life begin? How does it develop? What role do memory, mourning and farewell and the former life play? Where does something new begin? What kind of support is offered by surroundings, friends and acquaintances? It's not easy for anyone to rediscover who they are.
---
CREDITS
Wenn der Tod uns scheidet
(Til Death Do Us Part)
Leben nach dem Abschied
Germany 2005
90 Min (D)
TV-Version
Die Liebe bleibt
Deutschland 2005
45 Min (D)
Direction: Ulrike Franke, Michael Loeken
Director of Photography: Jörg Adams
Location Sound: Csaba Kulcsar, Maarten van de Voort
Editor: Timothy McLeish
Production: Daniel Buresch
Commissioning Editor: Barbara Denz

---